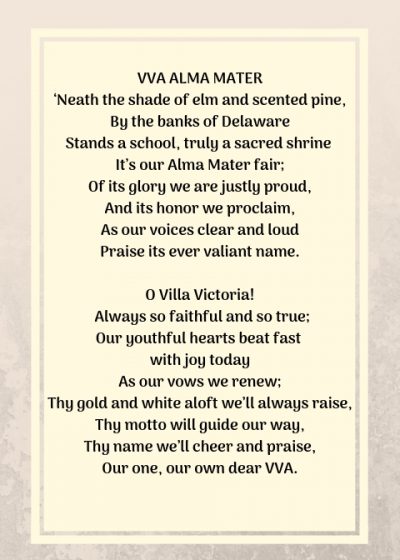 Keeping in Touch

---
Do you have a new job? Moved to a new city? Gotten engaged or married? Had a child or grandchild? Been promoted at work? Just want to say hello? Please let us know what's new in your life. Please complete the form below and let us know if we can share your news in an upcoming issue of the Villa News. Thank you!
Reunions

---
Planning a reunion? Contact Villa at 609-882-1700 or email sangelone@villavictoria.org  if you would like to:
–obtain the most recent class list available
–provide digital photos to share on the Villa Victoria Academy Facebook page or the next issue of Villa News
–use Villa for a class reunion
Dear Alumnae,
We are currently looking for copies of missing yearbooks for the following years:
1945  •  1956  •  1962  •  1966  •  1967  •  1968
If you have one you would be willing to donate back to the school please call 609.882.1700 ext 420 or email
sangelone@villavictoria.org
Transcript Request

---
If you require a copy of your high school transcript for educational or career purposes, please stop into the main office at Villa Victoria Academy or send your request to
Main Office – Villa Victoria Academy
376 West Upper Ferry Road
Ewing, NJ 08628
Attention: Anita Toth
Phone:
609.882.1700 ext. 401
There is a $10 fee per transcript. You may pay by check, payable to Villa Victoria Academy, or by credit card.